"Live the life of your projects with my facility from the inception stage until access to financing sources."
Trainings
Monshati offers a variety of training that will help enterprises owners to develop their businesses and generate revenues over a period of time.
Start attending training
Projects Gallery
تقدم منشأتي خدمة عرض المشاريع الصغيرة والمتوسطة ومتناهية الصغر التي استفادت من خدماتها لمساعدتهم في تطوير وتسويق منتجات مشاريعهم
Be part of our projects
Success Stories
Mahmoud Wishah - Pastry Chef
Ein Sultan camp
Business: Mahmoud Wishah Pastry Chef
Mahmoud's passion for pastries started when he worked at a coffee shop in Jericho, which led him to take some courses locally and then went to France, through the French cultural center, to learn in a professional culinary school.
In 2020, during the Covid-19 pandemic, Mahmoud decided to leave the coffee shop and start his own business. He started by making sweets at home and posting photos on his Facebook page. He specializes in western sweets and cake. Gradually, people started to recognize his work.
Mahmoud said "My specialty is that I managed to join the marketing and food safety training with the Monshati program and it was very helpful and I gained importantly
knowledge to take my business to a different level."
The marketing workshop taught Mahmoud the best ways to post on social media, how to communicate with clients, and to have more reach through digital marketing.
To Mahmoud, the food safety workshop was very important since his work requires him to mix different foods, and understanding the concept of food poisoning and how to avoid it is essential.
Mahmoud added, "I'm looking forward to advanced training on the same topics in the future."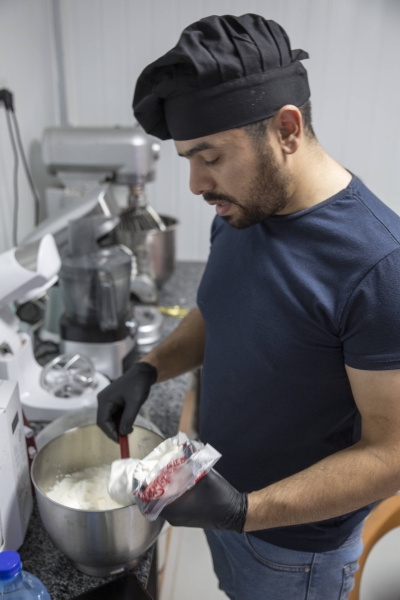 "Reaching success needs someone who is fully aware of his/her goals, also they need to know that failing to reach any goal they want is not the end of life, but it means to keep trying many times to get to what they want."
Do you need help?
Contact Us?
+970 2241 5251