Mahmoud Wishah - Pastry Chef
Ein Sultan camp
Business: Mahmoud Wishah Pastry Chef
Mahmoud's passion for pastries started when he worked at a coffee shop in Jericho, which led him to take some courses locally and then went to France, through the French cultural center, to learn in a professional culinary school.
In 2020, during the Covid-19 pandemic, Mahmoud decided to leave the coffee shop and start his own business. He started by making sweets at home and posting photos on his Facebook page. He specializes in western sweets and cake. Gradually, people started to recognize his work.
Mahmoud said "My specialty is that I managed to join the marketing and food safety training with the Monshati program and it was very helpful and I gained importantly
knowledge to take my business to a different level."
The marketing workshop taught Mahmoud the best ways to post on social media, how to communicate with clients, and to have more reach through digital marketing.
To Mahmoud, the food safety workshop was very important since his work requires him to mix different foods, and understanding the concept of food poisoning and how to avoid it is essential.
Mahmoud added, "I'm looking forward to advanced training on the same topics in the future."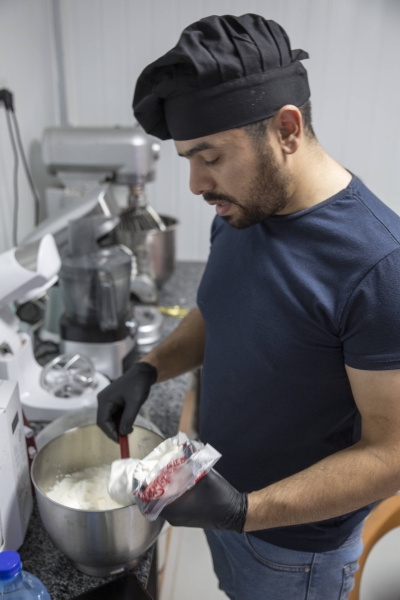 Samer Awajneh - Recycling carpentry

Samer has been working with wood for the past 6 years. He collects unwanted used wood from different places, including Jericho's streets, construction sites, and old furniture. Since the municipality doesn't have the ability to collect big objects like thrown furniture, Samer takes this responsibility by cleaning his neighborhood and at the same time benefits by recycling these remains and selling them. Especially since the quality of old wood is better than the new one.
Through the chamber of commerce, Samer received equipment for his small carpentry shop, such as an electric circular wood saw for cutting the wood, a Jigsaw, an air compressor, and a sander.
Samer said "In the past, I used to use manual equipment, it was very slow and unsafe and I injured myself many times. Today I'm using the new and safe equipment."
With the new equipment, Samer can manufacture a piece in 2 days instead of 10. The remaining challenge is the transportation of these big objects from the streets to his carpentry at home. Samer added "I hope in the future I can manage to get a small trolley
to move the objects ."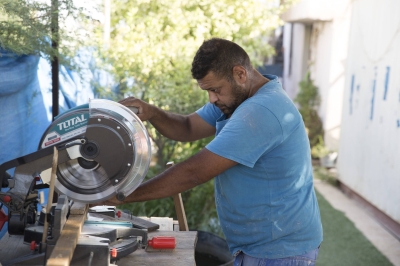 فتاة  "بصمة وأثر"
فتاة "بصمة وأثر" ، نيرمين أبو دقة ذات الاثنان وعشرون ربيعآ ، لم تترد نيرمين بالتسجيل في منشأتي لتطوير مهاراتها و اختصاصها في عمل الخزف و التشكيل، فمشروعها "بصمة و أثر" كان له الفرصة في الحصول على تدريب من منشأتي الأمر الذي علمها تقدير فن التشكيل بشكل اكبر و اضافت مخرجات تشكيلية جديدة للمشروع ، وكما وصفت نيرمين التدريب قائلة
"احنا الي بنتحكم في حياتنا كيف تكون يا اما بنختار انها تكون عادية او ممكن نحولها ببساطة لفن، يعني قطعة الخزف في البداية كانت طين وبالاخر صارت تحفة فنيه ، شكراً منشأتي"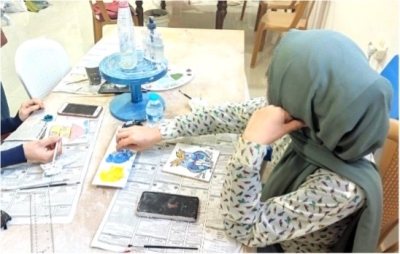 Hanan Omash, a pastry shop in the Gabr camp.
The Covid-19 pandemic has created enormous challenges that have affected many women and girls in Palestine. However, they fought fearlessly for their families and communities, " Monshati" was their main supporter. Mrs. Hanan Amash, owner of a pastry shop in Uqbat Jabr camp in Jericho, was the first beneficiary of the services of Monshati Helpdesk, where she received advisory services for accounting, and photography of her products through mobile, and a direct specialized course for making sweets, also her son has benefited from the services, who helps her in the pastry shop, which helped to increase her production and sales, and Introducing a new production line, where she bought a machine to make hummus and a large frying pan for falafel and used her courtyard to sell it.